Oracle Fusion Financials Course KEY FEATURES
Oracle Fusion Financials is a powerful and flexible financial management solution that can help manage business's finances more efficiently. In this course, we will introduce you to Oracle Fusion Financials and show you how to get started using it. We will also cover the basics of using Oracle Fusion Financials, including creating and managing accounts, invoicing and paying customers, and tracking financial metrics. By the end of this oracle fusion financials online training, you will be able to use this software to manage clients business's finances effectively.
TrioTech Oracle Fusion Financials online training will provide you with the basic to advanced topics of Fusion Financials. With the course, you will understand financial concepts and reporting tools. In addition, you'll learn essential reporting features such as consolidated statements, reconciling statements, forecast reports, and more. 
It is a financial management software suite comprising Accounting, Reporting and Analysis, CPX, and Financial Data Integration. In addition, the course offers you advanced training with live project exposure.
Oracle Fusion Financial Applications is to provide a comprehensive integrated financial management solution from beginning to end across the accounting cycle. Trio Tech Software Training's provides professional training in implementation of Oracle Fusion Financial Applications. Our Oracle Fusion Financials course contains step-by-step instructions on how to create the implementation Project and various Financial Modules at a more Functional end. This course is intended for any fresher or experienced who has an interest in Oracle Fusion Financials Applications. 

Oracle Fusion Financials online training Syllabus

Oracle Fusion Financials PROJECTS

CHOOSE THE TRAINING THAT'S BEST FOR YOU

Oracle Fusion Financials Training - UPCOMING EVENTS
Online
Regular
Batch Starting Soon

07:00 AM IST
Corporate
Weekend
Batch Starting Soon

07:00 AM IST
Classroom
Fasttrack
Batch Starting Soon

07:00 AM IST
Weekend
Week Day
Batch Starting Soon

07:00 AM IST

ORACLE FUSION FINANCIALS CERTIFICATIONs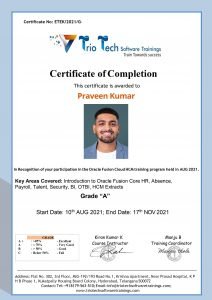 If you are in the finance industry and looking for a way to up your game, consider taking the Oracle Fusion Financials certifications. These certifications will help you become more knowledgeable about the Oracle Fusion Financials software, a key tool in the finance industry. 
In addition, by taking these certifications, you will be able to work more effectively in your field and help your company grow. So if you are interested in learning more about Oracle Fusion Financials and how it can help you, then be sure to check out the available certifications on our website.

Job Opportunities & Salary for Fusion HCM specialist
If you are looking for a job in Oracle Fusion Financials, you will want to be aware of the salary and opportunities available. It is possible to find several great opportunities, and the pay varies based on your experience level.  
The average salary of Oracle Fusion Financials consultant in India is  ₹7,00,000 per annum. Depending on experience and skills the salary will go upto ₹14,00,000 per annum.
Are you looking for an in-depth, hands-on Oracle Fusion Financials online training course? Look no further than TrioTech! Our course is designed for finance professionals looking to gain a thorough understanding of Oracle Fusion Financials. We provide an interactive learning environment that allows you to work through real-world examples and scenarios, and our highly qualified instructors are here to help you every step.
Best Support
Just finished my oracle fusion financials Course and to honestly say I received the best support throughout by my trainer, Sir and enjoyed every materials. I like the way they managed the course and their quick response whenever I needed their assistance. I am very much satisfied and had a great learning time.
Rock-solid foundation
One of the best things about this course was the Kumar sir who holds very high knowledge of the subject and is highly professional. Want to gain a rock-solid foundation on oracle fusion financials .You should take this course without a second thought. Best training platform.

Sneha
I Enjoyed Every Lesson!
Undoubtedly the best place for Oracle courses..I did my Oracle HCM course from here and was much satisfied..The indepth details provided by the Instructor gives a clear outlook to the course,also the timely clarification of any problem faced during implementation in a demo environment is top class...I would like to thank them for giving such a top clarity in Oracle ERP.....

Surya Kumar
Fantastic! Great instructor!
Good quality content and delivery of training. Kumar of Trio Tech is an excellent trainer with Fusion product knowledge and industry insight.

Andrew Sikuku
I'm learning Oracle fusion HCM technology here. Faculty is Kumar Sir.He is just awesome. If you want to learn advance level then you go to his classes. and the notes he is giving is very useful for cracking the interview easily. and if u miss any class of him he is take a backup class. the way he interacts with students. Hope this review help you.
Mohammad Gouse
If you are looking for Oracle Fusion HCM, then kumar sir is the best faculty in Trio Tech. He is a knowledge bank. He has high professionalism. He will teach you from scratch to very advance level. It's a Worth learning from him. He is an outstanding trainer I have ever seen.

Emmanuel Madhukar
One of the BEST institute in Hyderabad for Oracle. This institute has a well experienced faculty when compared to others in Hyderabad. After lots of research I have joined in this institute considering all the plus points here.
Damodharan Reddy
Excellent Training On Oracle Fusion HCM by Kumar. The way of his explanation is very clear and anyone can understand very easily. I am sure no one else can explain like him. He is the Best. If anyone is planning to learn HCM can join in Trio Tech without thinking.
Ravindra B
Good experience in triotech... And now I am very confident to say that I was ready for interview. .very responsible it's pleasure to be here

ramakrishna k
The best coaching institute, specially would like to mention Mr. Kumar one of the best faculty ever seen. He monitor, guide and make every one learn. I personally seen many success stories of his students.

Shanmukhsai Garapati
Excellent teaching by Mr. Kumar sir. He gave easy process to understand. Automatically build a Confidence that we can get a job by hearing Oracle HCM class . Thank you very much for your Valuable Guidance

yashwanth reddy
Trio Tech technologies is one of the best institute's in Hyderabad with very good teaching staff (Kumar sir) for (Oracle fusion HCM)they teach with many examples and detailed explanation on every topic's.

praveen p
Excellent training institution! Just completed my training on Oracle Fusion HCM. Presentation was clear & easy to follow and the materials given are rich and useful.

Chânduluri Arjun Chøwdâry
After a lot of research i choose to join triotech for fusion scm training.i found it's value for money and all the trainers are having decade experience and covers real time scenarios faced in their implementations.i strongly recommend this place when compared to others

Mounisha enturi
I am from pune and my friend joined for Oracle technical training at triotech. Excellent communication and technical support for trainees. Thank you so much triotech for giving us the real time experience

PALLERLA SHANKAR
hey I'm from Bengaluru...I've joined fusion Hcm online course at Triotech software trainings... Training sessions are really appreciable & worth to join.... Institute provide videos with good quality with immediately access after classes & has latest instance access to practice....

sree ram
I am glad to learn oracle financials in triotech software trainings before coming to this institute i joined other institutes but i didn't get a job because of lack of proper guidance there..thank you so much triotech you are a life saving one

Soumya Enturi
One of best institute to grow yourself strong on technical aspects from foundation to expertise level specifically to get practical exposure and creates a path to become industry expert ..I can confidently mention this that everyone who attends the training will for sure add this institute in their recommended list for all. Special thanks to efforts and enthusiasm of Mr.Kumar for his teaching to take the institute to next level to get industry experts

Alekhya Dendkuri
Frequently Asked Questions