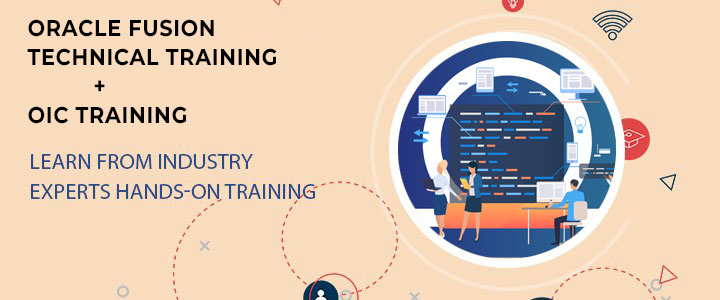 Oracle Fusion Technical Training + OIC Training
Aspirants interested in Oracle fusion have the opportunity to upgrade their skills by researching and enrolling for Oracle fusion technical training +OIC training. Oracle fusion technical +OIC training helps tech people gain skills and training to work with Oracle integration and middleware technologies. IT professionals, software developers, and other technical experts involved in building and managing enterprise-grade integrations using Oracle technologies find this course beneficial.
What is Oracle fusion technical + oic training?
The oracle fusion technical +OIC training program concentrates on teaching technical expertise associated with Oracle Fusion Middleware and Oracle integration cloud (OIC). Oracle fusion middleware is an extraordinary platform that helps businesses advance, deploy and manage business applications. However, OIC is a cloud-based integration platform offering various integration abilities for associating different systems and applications.
Trio Tech Software Trainings offer Oracle Fusion Technical Training + OIC Training covering topics such as Oracle fusion middleware components, Oracle fusion middleware architecture, OIC adapters, Oracle service-oriented architecture suite (SOA), Oracle integration cloud architecture (OIC), OIC integration flows and more.
Introduction to Oracle Fusion technical + OIC online training
By enrolling for an Oracle fusion technical + OIC online training, applicants get the opportunity to learn oracle fusion cloud online from any location. The online course benefits students, graduates, working professionals and technical experts in enhancing the industry knowledge immensely.
Growing demand for cloud-based solutions has led to the need for experts for managing and designing integrations between cloud-based and on-premise applications. The Oracle fusion middleware and OIC are exceptional integration platforms with comprehensive technologies and tools for creating integrations. Hence Oracle fusion technical +OIC online training is a mandatory course for technical enthusiasts desiring to reach higher posts in the IT domain.

Oracle Fusion technical + OIC Online Syllabus
Oracle Fusion technical Online Syllabus
Oracle Fusion OIC Online Syllabus
ORACLE FUSION TECHNICAL TRAINING + OIC TRAINING FEATURES

What you'll learn in our training
The course helps technocrats understand navigation, fusion cloud application, and functional setup management.
By completing the course, the individual learns to master fusion cloud applications.
Various reporting options are also present in the cloud, such as OTBI, BIP, and FRS.
However, the loader options such as HCM DL, SDL and FBDI help build bound integrations.
Applicants get the opportunity to build fast formulas, HCM extracts, notifications and workflow approvals.
The course helps in using sandboxes for customizing UI in fusion applications.
Building outbound integrations using integrations, web services, and BIP in OIC is possible.
The course helps the individual master main functional cycles in fusion cloud such as global HR, P2P, O2C etc.
Interview guidance and resume preparation are also part of the course.
Learn from the best and most experienced professors with interactive sessions and job assistance. Build your career in Oracle fusion and escalate your job profile in top companies. The online class in Oracle fusion technical training is an opportunity for many aspirants to learn the course from the comfort of their place. Hence, utilising the opportunity offers innumerable benefits in the IT career.

ORACLE FUSION TECHNICAL + OIC PROJECTS
To test your Oracle Fusion Technical + OIC knowledge, you must work on the industry-based projects Trio tech provided during the Course by discussing significant real-time use cases. This will also ensure hands-on expertise in Oracle Fusion Technical + OIC online Training concepts.
These projects are completely in-line with the modules mentioned in the curriculum.

CHOOSE THE TRAINING THAT'S BEST FOR YOU
Oracle Fusion Technical + OIC Training Certification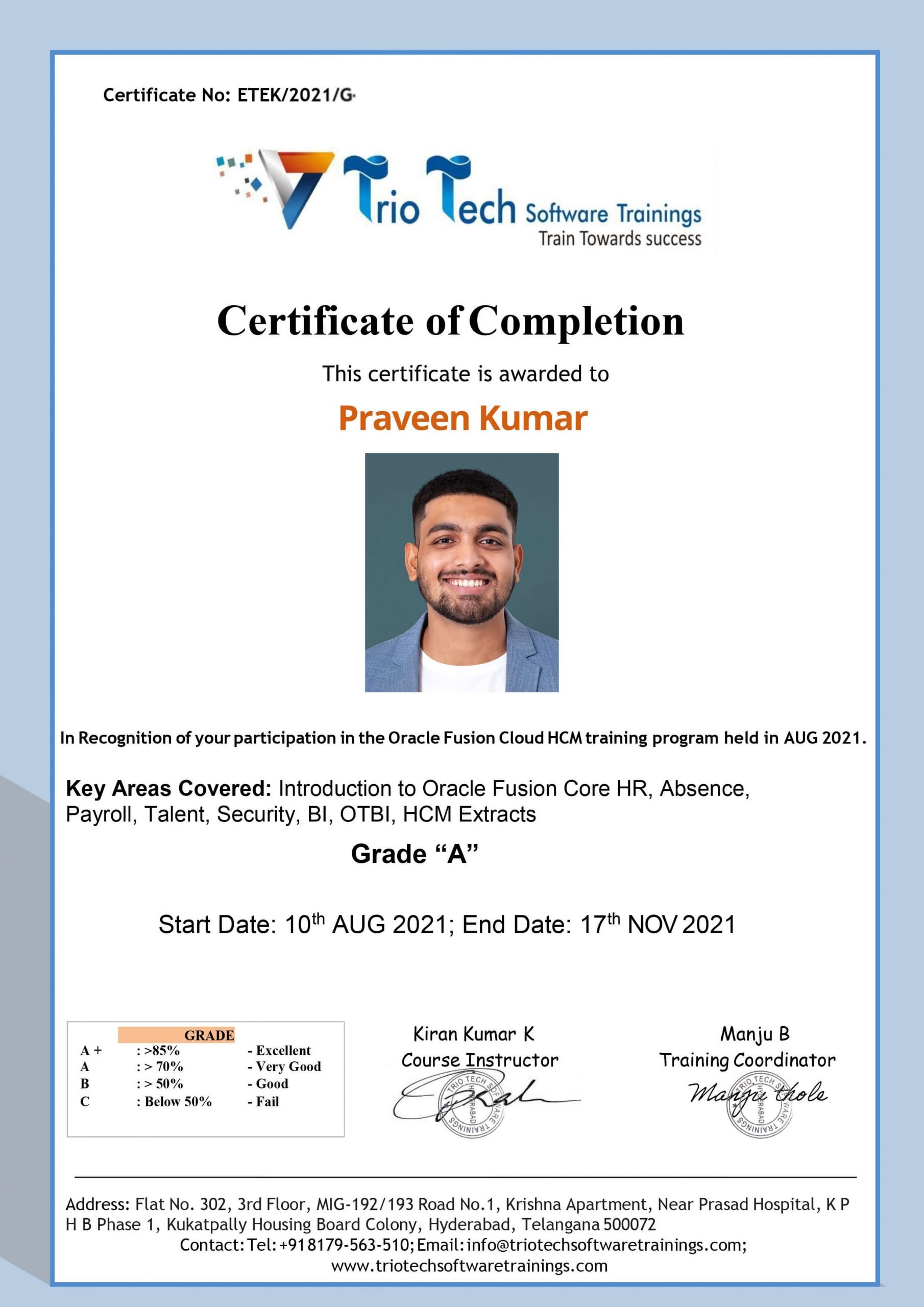 Our Oracle Fusion Technical + OIC Training certification course is ideal for those seeking to enhance their skills and expertise in managing Oracle Cloud applications. Our comprehensive training will prepare you to earn industry-recognized certifications, validating your knowledge and expertise in Oracle Fusion & OIC technologies.
WHY JOIN TRIO TECH FOR ORACLE FUSION TECHNICAL + OIC COURSE
This is my first experience with Trio-Tech, and I liked it. I have taken oracle Fusion technical+oic training. The training is going well, and the tutors are explained well in the easiest way, which makes me understand easily .i m happy to learn in this institute. one of the best institutes to learn technical+oic online training.
I have completed my Fusion technical+oic training from Triotech software training. The trainers are very passionate about training people and maintain friendly relationship with students during the classes. They will be down to the ground with freshers and provides additional sessions for the real-time working professionals with their day-to-day challenges.
One of the best things about this course was the Trainers who holds very high knowledge of the subject and is highly professional. Want to gain a rock-solid foundation on HCM? You should take this technical+oic training course without a second thought. Best training platform.
Institute TrioTech, The training and lecturers they offer are excellent. I am learning technical+oic, and they gave me resources and instructions on how to prepare for the interview and other tasks. Particularly trainers provide fantastic guidance and instruction. The prices are very reasonable.
I have come across this online portal on Google. Joined the technical+oic online course. The Faculty has explained Fusion technical+oic Modules very well. They gave me the Latest Server access to practice. I prefer this institute for anyone who likes to Join. Support is excellent and communication is best for students.