What is Oracle Fusion HCM
Oracle HCM is a comprehensive business oriented cloud software that connects people across the company in a seamless way. HCM refers to human capital management that combines every resource across a platform and keeps them connected. A readily available software for HR professionals to improve their performance related to payroll processing, talent hiring, employee retention and many more. HCM focuses on resource hiring, onboard job trainings, discussion of performances, and improvements in a single platform. In short, Oracle HCM is a productive tool that manages the employee lifecycle in a single go without any hassles of paperwork. which leads to a very good Scope of Oracle Fusion HCM in USA.
Growth of Oracle Technologies in USA
Oracle Fusion HCM is an advanced tool launched by Oracle, which is itself a popular company with its roots in US. Oracle has a strong license in the USA, which means the development of its sub-tool will also be rapid in the USA with so many advanced features. HCM is an advanced tool that can keep track of employees' information and performances to keep the managers well informed about every individual's records.
There are plenty of jobs posted in social media profiles in the US hunting for young talents in HCM, and they are ready to hire employees who can work directly from India for the US companies. This proves the demand and the increasing scope for software in a fast-growing software industry-oriented country like the US.
Oracle Fusion HCM Job Opportunities in USA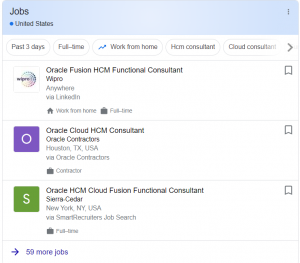 Oracle HCM Functional Lead, Oracle HCM Cloud Project Manager, Oracle Apex Developer, Oracle Database Engineer, Oracle Cloud HCM Functional, Oracle Fusion HCM Technical Consultant, and Oracle HCM Compensation functional are some of the competent and most sought-after job Opportunities in USA.
Oracle Fusion HCM Job Profiles in USA
Oracle HCM Cloud Functional Consultant
This job role demands in-depth understanding about HR related aspects and exposure to the HCM cloud. This consultant is responsible for curating business requirement documents, identifying gaps in the product, and provide valuable suggestions. A thorough understanding of HR related modules like payroll, talent acquisition, and many more will fetch potential job opportunities.
Oracle HCM Cloud Technical Consultant
This person is responsible for providing overall improvements in the Oracle software as well as troubleshooting the issues. All existing products are inspected to find out the problems and valuable suggestions are forwarded to the design team for overall enhancements.
Oracle HCM Cloud Solutions Architect
This architect is responsible for assisting companies by assessing their capabilities for better performance. These professionals do a healthy interact with the end users to provide valid technological development ideas. It is essential that the Solution Architect hold a wide range of expertise in the HRMS industry with extensive knowledge of the Oracle HCM software.
Future Scope of Oracle Fusion HCM in USA
The Oracle Fusion HCM is likely to invade the software industry in the US with its improvements and is expected to emerge as the best integration tool between IT and HR operations. HR professionals will be more productive on the HCM software and interact more online with managers and management teams on better handling of resources. The Fusion HCM application comprises of brilliant modules like HR, Benefits, Payroll management, talent acquisition, and security. In the future, all the employee details will be stored in a repository and managed online thus paving the way for effective business metrics.
Best Cities to Work in US
Austin, San Francisco, Dallas, Seattle, and Washington DC are very good cities to work for HR professionals in the IT industry. Although, many companies encourage remote jobs in US, these cities provide the most comfortable workspace along with challenging job roles promising career progressions at a short span.
How to Learn Oracle Fusion HCM
There are different sources to learn HCM both offline and online. Aspirants can make use of online sources like webinars, blogs, and training centers. Some companies also provide on the job HCM training for professionals to master the tool. If you are a budding professional, go and get yourself enrolled in a training center and acquire the knowledge on the tool to build your career in HCM.
Where to learn Oracle Fusion HCM
Industry certified experts at TrioTech Software trainings provide an advanced Oracle Fusion HCM Online Training. Trainees can seek hands-on-experience on the tool by enrolling in the course at our training academy. We provide both industrial and online training sessions for passionate professionals to equip their knowledge on the tool along with placement assistance for a secured career. A detailed training on every module is given from scratch to provide a better understanding of the cloud software. This is achieved with an adept team of trainers who are very passionate and share a great industry experience of almost 15-plus years.
Conclusion
The scope of HCM is incredible for businesses in the near future, with brilliant features that aim at improving the growth of businesses. This tool encourages businesses to adopt a standard strategy that will aim at hiring and retaining young talents by scrutinizing their profiles and performances on an online platform at the comfort of managers working from any corner of the world.
Employee retention would be great with the help of such proactive HR management tools that will help HRs to assess their performances and fetch the right rewards for competent resources. This way, the right talents will be identified by the management and help them grow up in the ladder of success, thus resulting in a mutually beneficial relationship for the company and employees.
Also Read:
Scope of Oracle Fusion HCM in UK
Oracle Fusion HCM Interview Questions