Oracle Fusion Supply Chain Management (SCM) is a prebuilt, cloud-native solution for Oracle Cloud SCM that enables supply chain experts to identify underlying causes for enhancing efficiency, lowering costs, and ensuring customer satisfaction. here are some of the most important views about the scope of oracle fusion SCM
What is oracle fusion SCM
Oracle Fusion SCM ensures rapid, problem-free implementation of Oracle Fusion Distributed Order, Oracle Fusion Global Order Promising, and Oracle Procurement. Understanding the configuration choices is facilitated by Oracle Fusion SCM Modules, allowing for better decisions during the deployment phase.
Why do companies use oracle fusion SCM
Many companies use it because of its ability to incorporate the digital supply chain with product innovation, strategic material sourcing, outsourced manufacturing, integrated logistics, Omni channel fulfilment, and integrated demand and supply planning.
Using real-time data and analytics, Oracle's Supply Chain Management Cloud Solution helps businesses respond rapidly to market changes. This cutting-edge solution may save a lot of money and improve supply chain efficiency. To help companies that have adopted Oracle Cloud apps achieve uniformity in their operations, this tool is fully linked with enterprise resource planning (ERP).
The Scope of Oracle Fusion SCM
Oracle's Fusion SCM is designed to function most effectively when used in modest or medium-scale organizations.
The cutting-edge business software and services that are included in this product are a clear indication of the forward-thinking character of this product.
Oracle integration may help simplify various business processes, including ERP, HCM, and CRM, to name just a few possibilities.
Because of its versatility, Fusion SCM may be used by enterprises of all sizes and in various settings. These settings include those involving business process management (BPM), supply chain management (SCM), governance, risk, and compliance (GRC), finance, and procurement.
They are risk-free because they are built on a platform that complies with open standards and is based on tried-and-true business methods.
Fusion SCM is a versatile solution for companies since it can be put in the cloud and accessible through mobile devices. This gives it a competitive advantage.
Oracle is the only manufacturer that offers a full suite of applications and a cloud platform that can be purchased as a service. If you have access to both, you can put processes into action more quickly and design applications that are a better fit for your firm's requirements.
Scope after Covid-19
scope of oracle fusion SCM has very much increased. Many people consider the COVID-19 virus a threat and an obstacle that only occurs once in a lifetime. As a result of the disruption in supply chains, hundreds of thousands of people have lost their lives, and others are going without many of the essentials for living. As people seek safety inside, economies have come to a standstill. Thousands of workers have been let off from their jobs at various companies. There are challenges to be found at every turn! People in the future will look back at the 19 months and years of the Covid era and remember it as an incredibly challenging period. The SCM disruption created by Covid 19 has reached an astonishing level, affecting almost all of us. Moving ahead, we will face various obstacles we must conquer.
Career opportunities in oracle fusion
That will primarily be determined by your degree of competence and experience in the appropriate field. It must occur on time. Pursuing a career in finance is not a good idea if your prior experience is in human resources (HR). Despite this, Oracle Finance and SCM offer significant potential in terms of job opportunities and worldwide growth opportunities. They are both put to use effectively all over the world. However, if you put the skills and experience you've gained in the past to good use, your chances of finding work will significantly increase.
Oracle Finance is the most suitable choice for those with experience in the financial industry. For example, you may be eligible for this position if you have a Bachelor of Commerce degree or previous experience working in the financial sector.
You have the option to make use of Oracle Financials if you so want. Whether your school background is in engineering, production, or manufacturing, you may pursue supply chain management as a career option.
You shouldn't choose a career path based on the potential wages of each position; instead, consider your talents and interests before making a decision. 
Because of this, you should prepare for significant financial and personal development.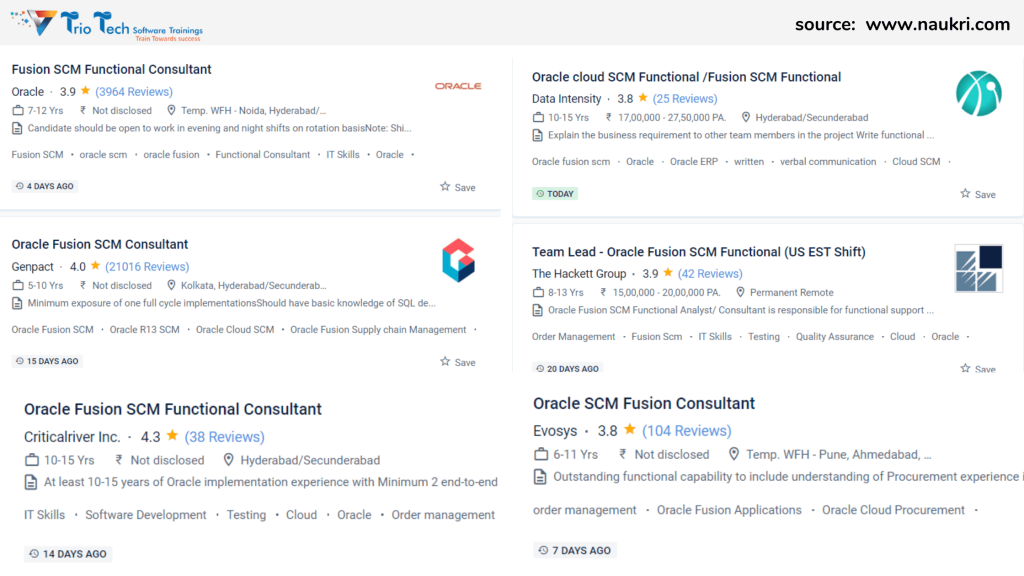 SCM Salaries of oracle fusion
Oracle Fusion Supply Chain Management Functional Consultant salaries in India vary from 3.7 Lakhs to 21.2 Lakhs, with an average income of 11.4 Lakhs annually. Oracle Fusion Supply Chain Management Functional Consultant salaries are based on 42 salaries provided by employees.
Where to learn oracle fusion SCM
Triotech Software Trainings provides a course in which students may learn about its many features, such as Product Management, Inventory Management, Procurement, and Order Management. As a reaction, Trio-Tech Software Training developed an Oracle Fusion Applications learning environment.
A rigorous and guided approach is required to make the most of the wide variety of current learning options, which include formal and unofficial settings. It is necessary to design a plan that considers both the company's objectives and the most successful training practices already in use. They are giving a free demo session about Oracle fusion scm online training, and you can attend it to learn more about SCM.
Some frequently asked questions about SCM.
What does the Oracle SCM Consultant do?
The Oracle SCM Functional Associate/Consultant is responsible for managing and documenting the deployment process from start to finish.
Is learning Oracle Fusion beneficial?
Oracle Fusion offers a plethora of career possibilities. HR Professionals, ERP, EPM Experts, Marketing Experts, End Users, and Aspirants pursuing a career in the potential sector are among the job positions it offers.
Is Oracle Fusion an ERP system?
Oracle Fusion Cloud ERP is a comprehensive, cutting-edge, cloud-based enterprise resource planning package that equips your teams with advanced features like artificial intelligence (AI) to automate the manual tasks that slow them down, analytics to respond to market developments in real-time, and automated upgrades to remain current and gain a competitive advantage.
Conclusion
Oracle Fusion Supply Chain Management (SCM) is a prebuilt cloud-native solution with very good scope of oracle fusion SCM that can be used for Oracle Cloud SCM. It enables supply chain professionals to improve efficiency, reduce expenses, and ensure customer satisfaction simultaneously. Triotech Software Training provides job-oriented training in Oracle Fusion HCM Course, Oracle Financials, Fusion Technical, Oracle Fusion SCM, Cloud PPM, ICS, and other courses.
Also read:
Oracle Fusion SCM Interview questions
Oracle Fusion Financials Interview Questions